Excellent dessert and multi-use apple, picked a few weeks early for cooking. Beautiful fruit ripens to bright red across the surface. Crisp, juicy flesh. Refreshing, sprightly, vinous flavor.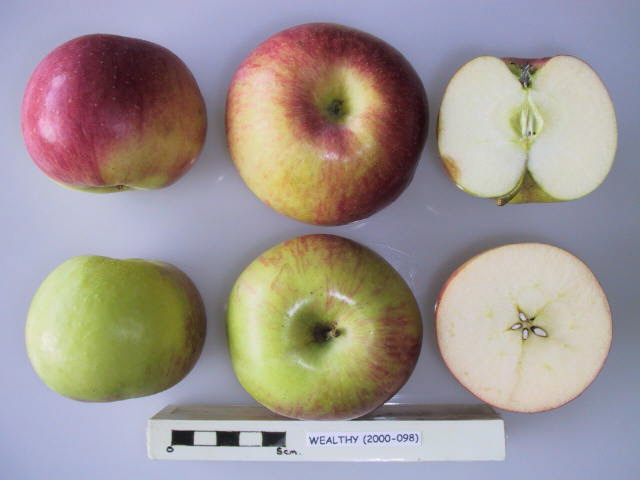 I started planting my home orchard (50 trees) in 2005..Afterb I found out how much I liked the wealthy apple I needed another one..So in 2014 I planted another..Wealthy is one of my favorite apples..Only complaint, is they produce every other st year the tree was so full of apples the branches were on the ground..I had to pick some off so the branches wouldnt break..Great for fresh eating..Next year Ill try apple sauce with them..I highly recommend Wealthy if you are thinking about planting apple trees.
With all the delishous apples that have come from the U of Minn I had to get this Wealthy apple tree planted in my heirloom orchard. Ordered 4 of them on G210 an they will be planted this coming spring of 2019. I now have Zestar!, Sweet 16 and Snow Sweet planted this past spring of 2018. My collection of Minn. apples are really growing.
As my daughter and I picked apples today, I noticed Wealthy on the map…Wealthy !!! I was sure that was a name from my childhood…A forgotten treasure. I guess its a little late in the season for then, but my daughter came up with a bag full…One taste and it was Heavenly…She is sold, I am happy picker..we were told they were an August apple…putting that on the calendar…I dont know where to start..pie.. ?
I have just DNA fingerprinted a Wealthy tree in a derelict orchard on an Aberystwyth University farm on the west coast of Wales in the United Kingdom. The orchard hasnt been tended for 40 years or more 🙁 The fruit gives easily on biting, is really crunchy, sweet and refreshing. Some would say tart. Ill probably take graftwood this winter and propagate onto MM106. I really like this Apple. I know Wealthy trees were popular in the 1920s and 30s in the UK but its quite a surprise to find one growing in a relatively remote part of the UK.
We have an apple tree that we are nearly certain is a Wealthy. The apples are somewhat tart unless fully ripe (red all around) and then they are remarkably sweet and tasty. You have to wait almost until they fall off the tree by themselves to get that peak flavor.
RE: Chris of 30 Aug 2015 My grandmother and mother made pies from Wealthy apples, but they were used fresh and were single crust pies open like a tart. Otherwise the fruit turns to sauce.
Wealthy makes the richest, smoothest apple butter of any variety Ive tried. Very cold hardy and reliable bearer in the Upper Valley of Vermont. – Carter Wilkie, Boston
I bought 1/2 bushel of Wealthy as suggested they were good for pie. I made canned pie filling but they had pretty much turned into mush. I can still use it but I would not label this a pie apple – at least not for canning – would be great applesauce.
I became officially acquainted with the Wealthy apple yesterday when a friend offered me some apples from her tree. I asked what kind they were and she said she had heard they were called Wealthy apples. I googled it and found the history. We live in a pioneer community in the mountains of Utah and I am sure this is the only apple that would do well here. There are many old trees around the town and many of the apples go to waste because people dont realize how good they are. I baked an apple crisp last night and it was wonderful. I plan to get one of these trees for planting next spring.
I have just recently planted a wealthy apple tree in my front yard. I got it at the local Home Depot. I was looking to replace the braeburn sapling I planted last year, that the rabbits got at. I have started to do a little research and am very hopeful this little tree will survive. It is a sapling, but has one little apple on it already. I plan to protect it from the rabbits this winter. I cant wait to eat my first apple and bake my first apple pie from my very own apple tree!
I grew up with a whole orchard of Wealthies that my grandfather planted on his farm, and have made sauce (that gorgeous cherry-pink sauce!) and pies (those delectable tart-sweet pies that need only a smidgin of cinnamon as spice) all my life. More and more I hear that growers have never heard of them, a heartbreaking state of affairs, and I dare not even visit the old farm any more, suspecting that its new owner has cut the old trees down as shes eliminated all other traces of how it used to be. Cant we revive this wonderful apple in these decadent days? Its hard lines to have to drive to New England from PA to find them……
On our familys ranch, near where the old homestead cabin stood, is an old apple tree, believed to have come by train with my great-grandfather in 1890. The variety was, to us, a mystery until 2004. We called them canyon apples because it was in the canyon below our farm. We liked the apples, but LOVED the applesauce and apple pies made from them. We had the tree identified through a program at Washington State University in 2004, as a Wealthy. The tree is now over half dead and still produces few to many apples, depending on the year. We are now pursuing the opportunity to have a graft taken from it, so that we can pass on the variety to family members for years to come
A small tree was planted in our back yard by my dad, probably around 1958 or 1959. He bought it, though in ignorance of its greatness, from a local nursery. The tree never grew large, but was very productive of the best apples I ever tasted. Sweet-tart, green burnished with a blush of red, popping with juice after an audible CRACK when bit. We could never get enough of them. Mostly, we ate them raw, right off the ground or tree. Once, a swarm of honey bees weighed down a branch, presumably with a queen at the center. The bees stayed put while we called a wood-shop teacher at our local high school, who was also a bee-keeper. He came over in his special suitand collected the mass of bees by holding a big box under the branch, then giving the branch one good shake. The whole swarm plopped into the box! Unfortunately, after my parents sold that house and moved, the new owner cut the tree down. We found that out when we stopped to look at our old (remodeled) house. I told the owner that the tree was a Wealthy apple, one of the finest, and asked him why he cut it down. He replied the raccoons got all the apples anyway. 🙁 It was clear to me he had no idea what he had done. Ive never found a wealthy apple for sale in any store Ive visited in the Northwest, Washington or otherwise. Still hoping, though.
A wonderfully tasty apple, we fight over the descriptions of its overtones: is there a lingering taste of banana or is it strawberry? Or both? It depends on the people. The taste is addictive. This apple gives its very distinctive character to the famous cider from the Pedneault orchard in Lle -aux-Coudres in Quebec. Quite disease resistant and very cold tolerant too.
our best apple, very good for eating or baking, crisp and slightly tart. everyone loves them
Have you tasted this variety? Do you agree or disagree with our tasting notes? Tell us what you think!
All comments are reviewed before publishing. We do not share your contact details with other organisations and our privacy policy complies with the General Data Protection Regulation (GDPR) of the European Union.SubmitClose
Alison Loyin Burtchville, MICHIGAN / ST. CLAIR
DC Nachtriebin Poncha Springs, COLORADO / CHAFFEE
Florian Deisenhoferin Brush Prairie, CLARK COUNTY WA
Record yourblossom datesin our Fruit Tree Register -more .
Sweetsers Apple Barrel and Orchards, Cumberland Center
Knaebes Mmmunchy Krunchy Apple Farm Cider Mill, Rogers City
Porters Orchard Farm Market & Cider Mill, Goodrich
Apple Luscious Organic Orchards, Salt Spring Island
Salt Spring Apple Company, Salt Spring Island
Vista Bella Farm Orchard and Apiary, Malagash
Author: Stephen Vann, University of Arkansas, Division of Agriculture (FSA7538)
You may not reproduce any of the content of this website without ourexpress permission.
We do not accept any liability for loss or damage incurred as a result of any errors in the content of this website.